Notice: beginning January 1, 2016, styrofoam will no longer be accepted in recycle bins.
Below you'll find important info about what is recyclable and how to make sure our team can pick-up your Recycling and Yard Waste carts. Quicklinks:
Residential recycling is picked up on your regular garbage day. Depending on service type, multi-family and commercial service may have a different collection schedule. Residential customers must place carts at curb or road edge for collection.
General Guidelines
Place all recyclables together in the BLUE CART
No Garbage
No Plastics except Houshold Containers
Rinse or empty containers
Remove Lids
No Liquids
Recycling is collected weekly on your regular garbage collection day
Mixed Paper & Cardboard
Flatten or cut boxes to fit loosely inside

BLUE CART

. Place shredded paper in paper bags.
White and Colored Paper
Office Paper and Envelopes
Newspaper
Magazines and Catalogs
Junk Mail and Envelopes
Paperback and Phone Books
Waffle-type (corrugated) Cardboard
Single Layer Cardboard (cereal, shoe boxes, etc.)
Food Contaminated Paper
Napkins, Towels, Tissues
Photographs or Blueprint Paper
Milk Cartons
Empty before recycling. Remove plastic straws and tops.
Milk Cartons
Drink Boxes
Juice Concentrate Cartons
Frozen Food Packaging
Plastic Lined Cartons
Straws or Pop Tops
Glass Bottles & Jars
Remove caps and empty containers before recycling.
Clear and Colored Glass
Food and Beverage Jars
Leave Labels On
Jar Lids or Caps
Window or Mirror Glass
Ceramic, Dishes or Stemware
Plastic Containers
Wash and squash, remove caps. Empty containers before recycling. 
Household Containers
Milk and Water Jugs
Soda and Juice Bottles
Shampoo and Detergent
Yogart and Deli Tubs
Pasta and Deli Trays
Non-containers
Pipe or Hose
Garden Pots/Trays
Tarps, Feed Sacks
Plastic Toys
Plastic Buckets
Plastic bags
Metal Cans
Wash and squash, leave labels on. Empty before recycling.
Aluminum Cans
Steel and Tin Cans
Bimetal Cans
Empty Paint/Aerosol Cans
Materials that are Not Recyclable

Food & Wet Waste, soiled paper plates & napkins

Styrofoam containers, Packing material & Peanuts

Pizza Boxes, waxed cardboard & paper cat/dog food bags

Chip Bags

Frozen food bags

Hazardous & toxic product containers

Batteries & Electronics

Light bulbs & fluorescent tubes
Tarps, hoses & PVC pipe

Ceramics, dishware & glassware
Place all yard waste & compost in the
GREEN CART
Grass Clippings
Leaves
Branches no longer than 48 inches
Wood debris with nails but no large brackets
Vegetables
Please Compost
Leaves
Grass clippings
Prunnings
Flowers
Sawdust
Vegetable trimmings
Coffee grounds
Do Not Compost
Bones
Dog and cat feces
Un-chopped wood
Plastics
Meat, fish, poultry
Diseased plants
Dairy products
Wood ash
Green Waste – Accepted Materials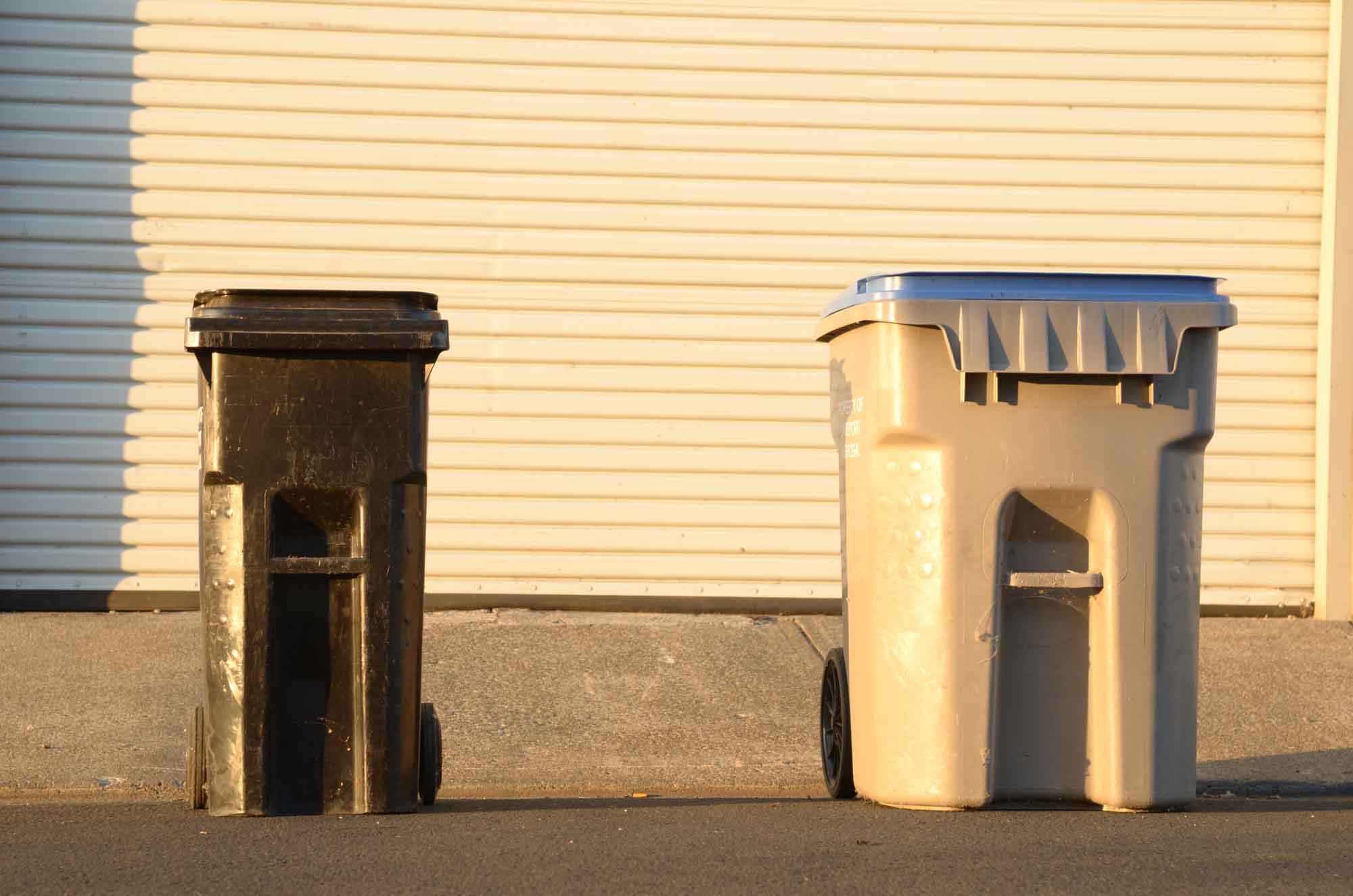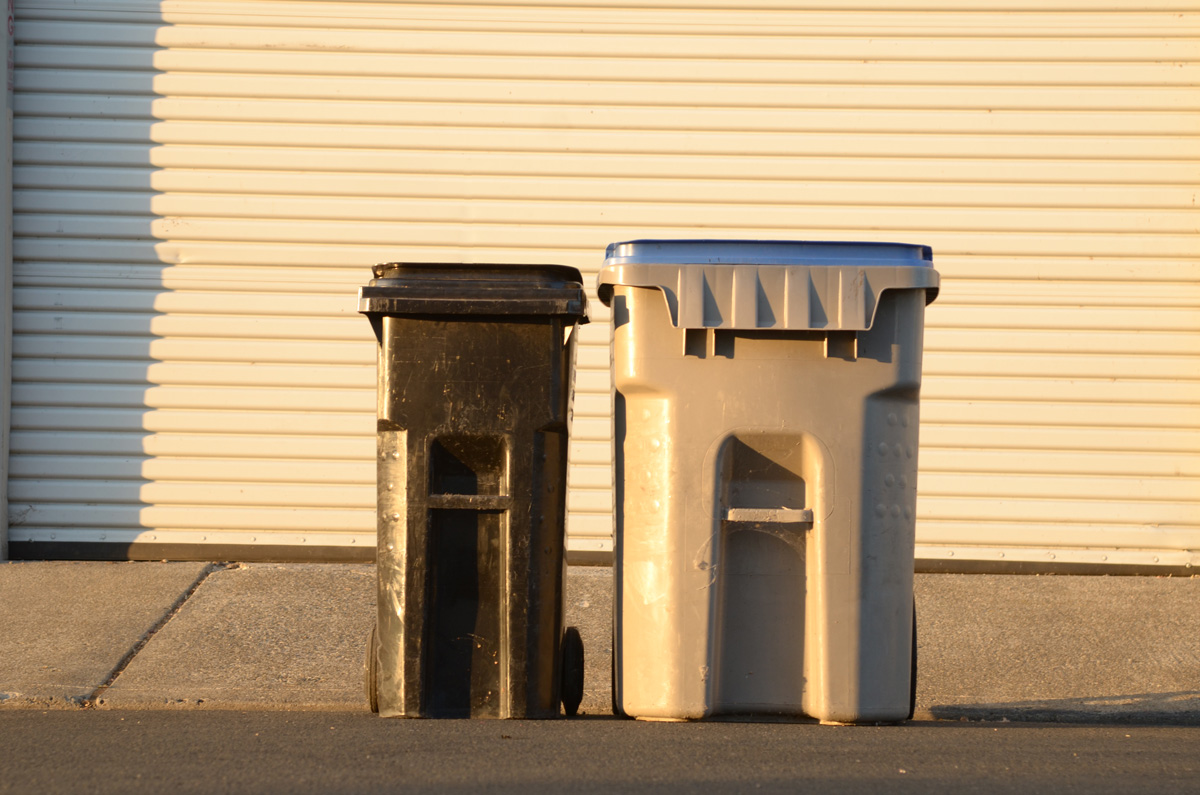 Cart Placement Guidelines Keep carts three-feet away from other containers or structures. 1. The truck's lifting arm needs at least three-feet on either side of the rolling cart to wrap around the container. Place carts three feet from other carts, telephone poles, automobiles, mailboxes, basketball poles or other structures that will prevent the truck's lifting arm from grasping and lifting the carts to empty them into the truck. 2. Be sure the arrows on the lid are pointing towards the street. Face each cart so that the arrows on the lid face the street and the hinges face away from the street. This allows the lid to open fully when the cart is tipped over above the truck bay. If the hinge faces the wrong way, the lid or hinges may be damaged. 3. Make sure that there is a twelve-foot vertical clearance above carts. Keep carts away from low phone or electric wires, low hanging tree branches or other overhead obstructions. The twelve-foot vertical clearance is necessary for the truck's lifting arm to elevate the can above the loading bay where it is emptied. 4. Do not place carts behind parked cars, fire hydrants, trees or other obstructions. Do not place carts where access to them is blocked. The automated truck lifting arm is not able to reach behind trees or other objects. 5. Place carts no more than two-feet away from the curb or road edge. The automated lifting arm, when fully extended, has a horizontal reach of only three-feet. Be sure the cart is placed on a level surface within three feet of the road's edge.