Flooding is affecting some areas
Currently these streets are being effected by flooded areas . If you have a home in these effected areas. To reduce any possible property damage place all carts on the north side of the street. Our trucks will be backing down to provide our weekly service. This area may expand depending on the lake rising. Thank you for your patience during this time.
Affected Areas:
K st
Konocti St
Lupoyoma St
Lakeport Disposal
Continuing To Serve Our Customers
And Our Community!
For the safety of our workers and customers, please
observe the social distancing requirements (6ft or more).
Thank you!
"They are always on time and never miss a pickup. We've been very pleased with Lakeport Disposal!"
Winter Is Here…
Please do not put hot ashes in any carts!

This can not only destroy the carts but also cause
damage to customers' property!
Customer willl be charged for replacement of carts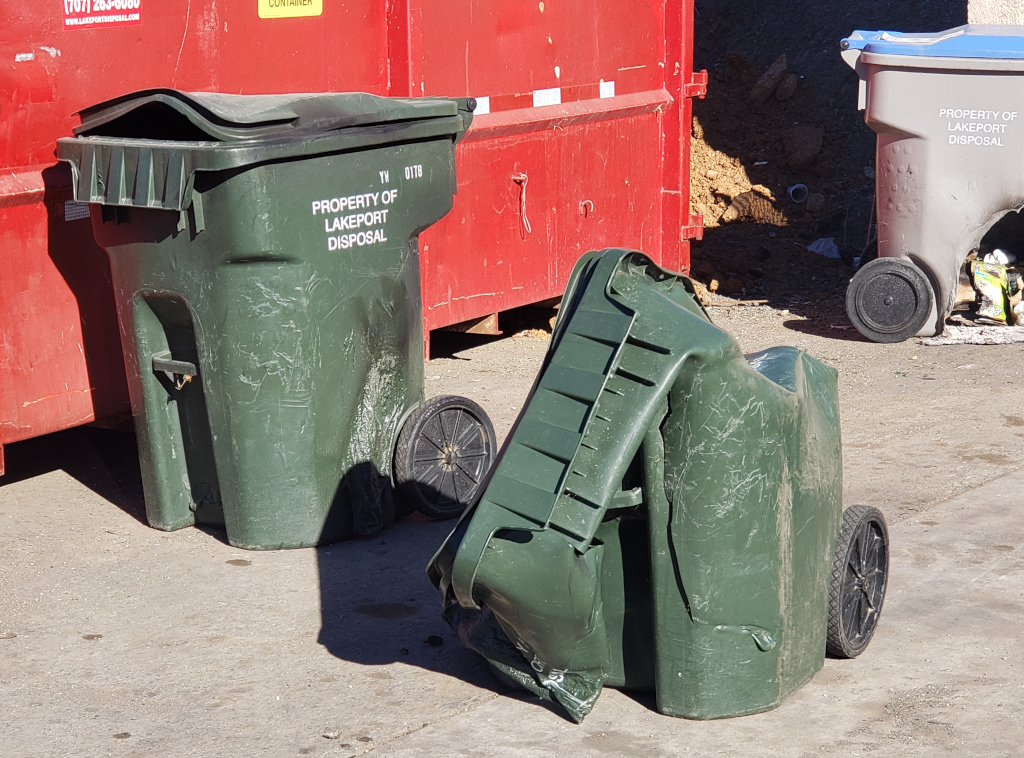 TIPS FOR GETTING GREAT GARBAGE SERVICE
Don't overload your cans.
Don't forget to place carts at curb the night before pick-up
Don't overstuff cans, they might not completely empty.
Don't place food in recycling cans.
Don't place dirt, rocks or cement in yard waste cans.
Don't put dishes, glassware, clothing, hoses, pet food bags, PVC Pipes into your recycling cans.* CONTAMINATED RECYCLING WILL BE TAGGED WITH A WARNING. SECOND TIME WILL RESULT IN A $15.00 CHARGE ADDED TO YOUR GARBAGE BILL.
BULKY ITEMS
One large bulky item OR seven bags can be picked up free of charge once a year.
Large appliances can be picked up for free.
Accepting all large appliances EXCEPT refrigerators and freezers require $45 freon removal fee.
2021 Household Hazardous Waste Drop Off Schedule
All events are Friday and Saturday from 9 am to 1 pm.
April 16/17 – Lakeport
May 15th ONLY – Lucerne
May 21/22 – Clearlake
June 18/19 – Lakeport
July 16/17 – Clearlake
August 20/21 – Lakeport
September 17/18 – Clearlake
October 9th ONLY – Hidden Valley Lake
October 15/16 – Lakeport
November 19/20 – Clearlake
December 18th ONLY – Lakeport
Lakeport
Lake County Waste Solutions
Transfer Station & Recycling Center
230 Soda Bay Road
Clearlake
Quackenbush Mountain Resource
Recovery & Compost Facility
16520 Davis Street (next to Eastlake Landfill)
Hidden Valley Lake
Hidden Valley Lake Fire Station #63
19287 Hartmann Rd (by Post Office Boxes)
Lucerne
Lucerne Harbor Park
6217 – 6225 State Highway 20
Ask about receiving a free puncture-proof sharps container at one of these events to use for free sharps disposal!
For more information contact the Lake County Integrated Waste Management or call 707-263-1980